Stories of the Sea at Leith Dockers Club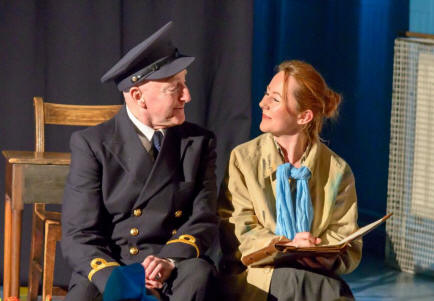 Andrea McKenzie as Eva and Charles
Donnelly as Norman Wilkinson
Stories of the Sea (Photo Alan Thomson)
Citadel's Leith Festival double bill, STORIES OF THE SEA offers 'a braw bundle of insight' writes Thom Dibdin is his FOUR STAR review in All Edinburgh Theatre.com. First, DAZZLE playwright Alan Mountford has 'wisely used' the letters of artist and former ECA student Eva Harriet Mackenzie to create 'a great story well told'. Andrea McKenzie's Eva is a 'properly rounded character'; Megan Fraser does a 'su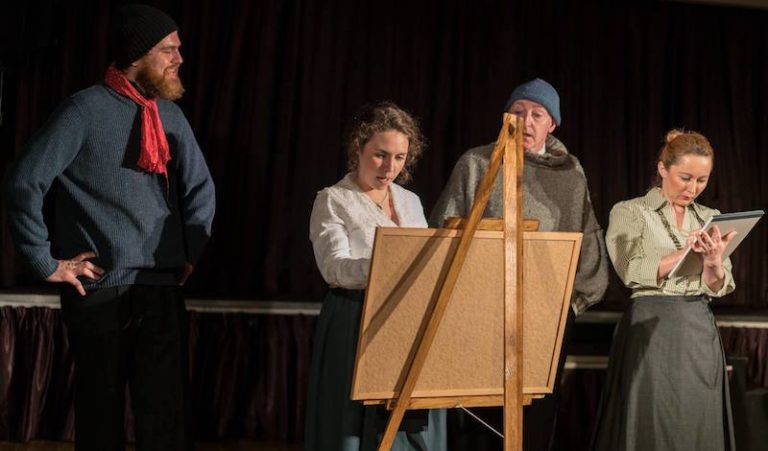 perb job' as her friend Lizzie' and Charles Donnelly is 'particularly strong'; director Liz Hare has 'finessed it well'. Then Jim Brown's WHIT ABOOT THE WIMMEN? has an 'air of bawdy Scots comedy.' 'Great performances' from Charlie West and Rachael Keiller but Laverne Edmonds is 'the one to watch' 'Excellent direction from Mark Kydd, who uses the split-level space well, and keeps the whole narrative clear, reminding that Leith was a place of hard physical work, of drinking, overt prostitution and violence.'
Another FOUR-STAR review from Justine Blundell in EdinburghGuide.Com praised Andrea McKenzie's 'sweet sincerity' as Eva, and Megan Fraser's 'feisty' Lizzie in DAZZLE, a 'genteelly engaging story'. While 'WHIT ABOOT THE WIMMEN' is 'a delight from start to finish': 'funny, witty, smart' and 'brings unexpected tears to the eyes'.
Rob Peacock in The Wee Review also gave Stories of the Sea FOUR STARS: 'It's marvellous what can be achieved by a community theatre company in a community space with a little ingenuity and a lot of hard work. For their eighth outing at the Leith Festival, Citadel Arts Group have pulled off another impressive double bill that celebrates Leith, gives a nod to local history, and sends a packed house home with a chuckle and a swell of local pride.' 'Citadel continue to find interesting aspects of Leith life to explore and heart-warming evenin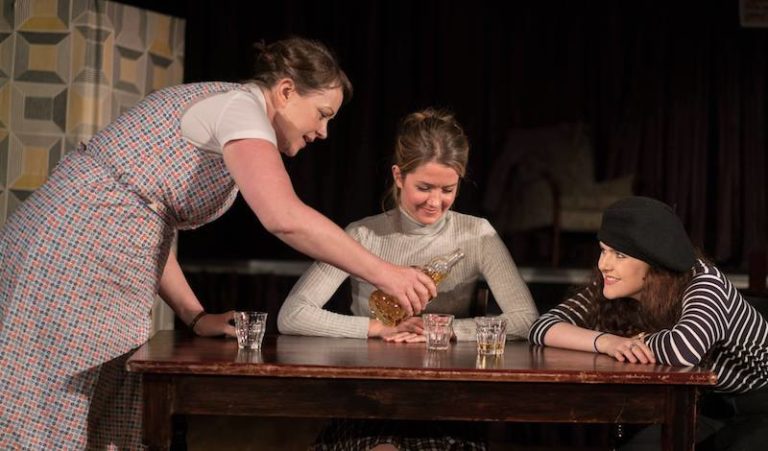 gs like this continue to do them, the Dockers' Club and Leith Festival great credit. Long may it last.'
Citadel Arts Group thanks our sponsors: Weir Charitable Trust, random arts giving, Stafford Trust, Foyle Foundation, Leith Benevolent Association, Port of Leith Housing Association, and Forth Ports.
The Weir Charitable Trust grant is enabling us to take a new version of both plays into centres for younger and older people after the summer.
CITADEL ARTS GROUP IS SUPPORTED BY THE ROBERTSON TRUST