Leith Docks: A Way of Life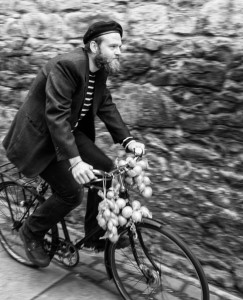 'Leith Docks, A Way of Life' by Laure Paterson, directed by Liz Hare, was
based on memories of retired dockers and residents. Cast: Helen Cuinn,
Gregor Davidson, Mark Kydd, Derek McGhie. The Living Memory
Association commissioned an extra performance of Laure's play to open their
new base in Ocean Terminal. This gained a 4-star review from TV Bomb's
Rob Peacock.
A tvbomb four star review by Robert Peacock of Leith Docks: A Way of Life
( 1 July 2016) focussing on the writing, the music, the performances and the
play's evocation of the sixties in Leith. Follow Review link for more..........
http://www.tvbomb.co.uk/review/leith-docks-a-way-of-life/
Eric Robinson's photo of Gregor Davidson
as Pierre, the Ingan Johnnie in Leith Docks,
A Way of Life by Laure Paterson
---

Laure's play 'Leith Docks - A Way of Life' was based on living memories of people who shared their stories of the docks and Ingsn Johnnies.

Alan Thomson's photo of Jennie Smith, whose memories of the Ingan Johnnies helped inspire Laure's play about Leith Docks.

The 'Guid Doctor' was developed was developed from a reading in Ocean Terminal for an audience of local penshioners and Trinity Academy pupils.

Eric, Nicky and Andy were members of the Photography Project, 'Face to Face with Leith', led by Kat Gollock. This was sponsored by Foundation Scotland..

---

The Story of Leith was a historical soundscape walk around Leith.

Through the use of binaural audio recording the walkers to experience an immersive audio experience of Leith's historic events. The scenes on the walk were researched and scripted by members of the WEA Playwrights Workshop led by Liz Hare. Voices: Mark Kydd, Helen Cuinn, Greg Davidson, Rob Flett, Derek McGhie and Andrea McKenzie.

Mary Moriarty enjoys the soundscape on Leith Links with

two of the playwrights who scripted The Story of Leith

---

Site developed by Citadel Arts Group - 2010 Citadel Arts Group, Registered Charity no. SC034687